GENERAL INFORMATION
•Event Name: Ring Drop Season Robo League Tournament
•Event Status: Not Sanctioned
•Location: Your respective Pokemon Gym
•Event Date: 06 Nov or 07 Nov, 2010
•Registration Fee: Free
•Maximun Participant: League Members of each respective Gym Only
•Registration Time: 2:00am to 03:00pm
•Event Starts: 3:00pm
•Organizer Name: Ujin Yumeno
•Organizer Phone: 9*** ****
•Organizer Email: ujinyumeno@teamrobo.com
REGISTRATION INFORMATION
•This Tournament is opened to Robo League Members only
•Interested Players only need to turn up before 03:00pm at their respective Pokemon Gyms on their usual League Event Days on to register on the spot.
•Category: limited - Constructed - Poor man's Deck
Players can only use common and uncommon cards from Majestic Dawn Expansion onwards including the new HS Triumphant to form a 60 card deck. All Black Star Promos are considered Rare Cards and therefore no usable in this Tournament.
•Format: Swiss / Four Rounds
Players will play against opponents matched up by using the Swiss pairing method which determine a single winner by pairing players with the same, or similar, match record against each other until there is only one undefeated player. The first round match-up is determined by random.
The Winner of this Tournament will go up against the Gym Leader for a special Challenge using the same Tournament rule. Together with the runner up and their Gym Leader. They will also take part in the Pokemon Gym Championship the following Week!
•Age Modified
There will not be any Age Division for this Tournament
•Time Limit:
There will be a 30min + 3 Turn limit for this Tournament.
TOURNAMENT PRIZES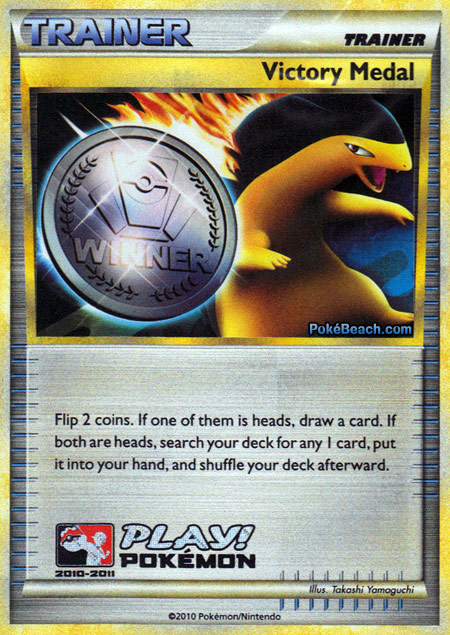 The Top 3 Ranked Players will recieve a Lapras and Shuckle promo card, While the Winner of this Tournament will be given a Victory Medal Promo Card!
The winner will also get 2 packs of HS Undaunted Booster Packs and a Gym Leader Badge if he defeats the Gym Leader at the end of the Tournament![/quote]