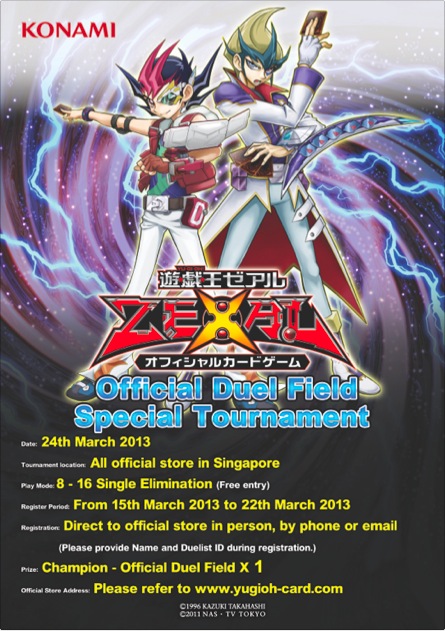 Konami Asia and SG Cardmart presents the Official Duel Field Special Tournament!
Event Details
Venue: Held at 6 official shops in Singapore (All official shops except TTZ Trading)
*For shops' addresses, go to
http://sg-ygo.userboard.net/t7453-ranking-event-stores#127933
Date: 24 March 2013
Time: 3pm (All at the same time)
Registration: Registration at the shops itself between 16 - 22 March directly
Entry Fee: Free!
Prize:
Champion of each shop receives the official YuGiOh Playmat due to go on sale in March 2013
Registration:
Registration with the shops directly between 16 - 22 March directly with your name, contact no and duelist ID
On event date 24 March itself, to be at venue by 2.45pm. Event will start sharp at 3pm. Latecomers will not be entertained
Format:
8 - 16 pax Single Elimination
(Limit minimum of 8, maximum of 16 pax entry)
*In the event there are not enough players registered by 22 March at any of the venues, players will be contacted, so may be a good idea to group up and head down to the venues and register together. Therefore make sure your accurate contact number is registered.
Rules:
No rules!
Just kidding, usual YuGiOh rules apply - http://www.konami-asia.com/th/yugi/event/rules.php?lang=en
No card restrictions, as long as no proxys or fake cards